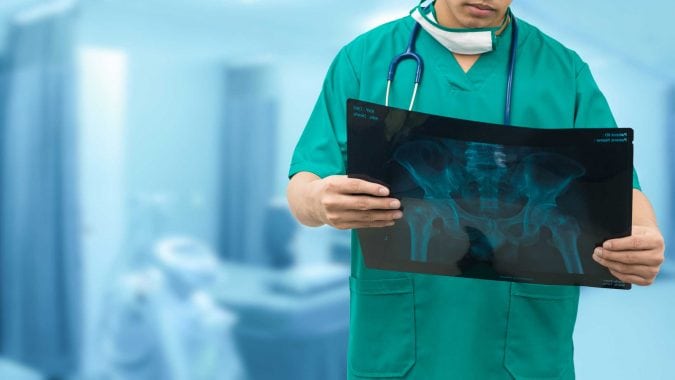 What is the difference between orthopedic surgery and podiatry?  There are more commonalities than there are differences.  Both are medical and surgical specialties, and treated by virtually all medical insurance companies and government entities as such.  Its practitioners attended medical school and residency, and go through a licensure and board certification process.  Orthopedic surgeons and podiatrists work side by side in hospitals and in the same group practices.
The main difference lies in the body systems they treat.  Orthopedic surgeons are concerned with bones, muscles, ligaments and joints throughout the body.  They are bone and joint doctors and surgeons.  Podiatrists are foot and ankle doctors and surgeons.  As such, there are overlaps between the two.  Both are concerned with bones, muscles, ligaments and joints in the foot.
Outside of this, orthopedic surgeons are concerned with other areas of the body, including knees, hips, spine.  Podiatrists are concerned with other organ systems in the foot and ankle, including the skin, blood vessels and nerves.  Podiatrists are the orthopedic surgeons, plastic surgeons, neurosurgeons, dermatologists of the foot and ankle.
Podiatrists are differentiated physicians.  They attend special medical schools and residencies.  Medical students going into this field know from day one that they will be physicians and surgeons of the foot and ankle.  Their curriculum and course of study is geared toward that end.  To be certified as a podiatric surgeon a practitioner needs to perform 400 foot and ankle surgeries. To be certified as an orthopedic surgeon, 5 foot and ankle surgeries are required.
So even though an orthopedic surgeon may have some experience or training in the foot and ankle, it does not compare in terms of commitment and depth of training in the foot and ankle, all systems, that a podiatrist receives over many years of schooling, residency and fellowship.  Podiatrists are recognized worldwide as the foot and ankle experts.
A podiatrist is a comprehensive foot and ankle physician and surgeon.  An orthopedic surgeon is bone and joint surgeon for all body parts.
Letter to Washington State Orthopaedic Association
Click here to learn more about the podiatry profession.
Click below to learn more:
"He was welcoming and listened well to the concerns I presented. I especially liked that I was able to write down my problem before I came in and he addressed them efficiently. I was diagnosed with a much different problem than I had been given before, and Dr. Hoy explained his simple, methodical method for his diagnosis as we went. I felt extremely cared for and like I will be able to make progress on my problem before I see him again. Definitely see Dr. Hoy if you've had problems seeing a general practitioner or orthopedist with no luck. It may be that you need a more specialized opinion." -Samuel S.