"My first visit with Dr. Hoy was so much more than I even expected.  As my new Podiatrist, the exam and attention to my feet was excellent and when we discussed two other medical issues I was dealing with on my legs, he was also able to treat those and teach me more to address those problems on my own.  His extensive medical training has also been in other specialities and he has some years of experience in those too.  So I was very impressed by Dr. Hoy's depth of knowledge and experience and look forward to our ongoing treatment plan.  Of course, I should also compliment Ava, his office administrator.  They have an efficient system and she is excellent and so friendly too.  Dr Hoy and Ava are truly 5 star." -Gennie T.
Our practice treats the simplest to the most complicated foot and ankle conditions, for all ages from pediatrics to geriatrics.  The sheer complexity of the human foot makes it a frequent cause of pain and injury for many people.  Deformities, infections, injuries and arthritis of the foot and ankle can severely and unnecessarily limit a patient's quality of life.  Any time you experience foot or ankle pain or injury or a change to the condition of your feet or ankles, it's appropriate to see us for specialized care.
Our top 10 most commonly treated conditions:
Come see us if your life is limited by:
An injury (a sprain, broken bone, etc.)
A medical condition (diabetes, poor circulation, etc.) that can affect the feet
Impaired ability to function in certain activities
Heel pain in the morning
Any painful condition of the foot, heel, ankle or lower leg
Discomfort after standing for awhile
Changes in the appearance of your foot or ankle
A wound that doesn't heal or gets infected
An abnormal growth or skin condition
We perform a variety of medical, orthopedic and surgical services, including:
SEATTLE FOOT PAIN DOCTOR: If you are suffering from foot pain, successful treatment solutions can now be found locally. Seattle podiatrist Dr. Hoy has the experience and expertise to properly treat the cause of your foot pain.  He integrates advanced treatment options with state-of-the-art equipment to help restore your feet to good health.  There are many conditions causing foot pain, described in our patient education library.
SEATTLE HEEL PAIN DOCTOR:  Your heel is more important than you might realize, and heel pain can really take its toll on your mobility. Keep in mind that, essentially, your entire body rests on your heels, meaning they take on a lot of stress with each step.  People who run or participate in sporting activities are often more susceptible to heel pain, but virtually anyone can be affected.  Dr. Hoy treats many patients with a wide variety of heel pain conditions. Some of the most common heel problems are described in our patient education library.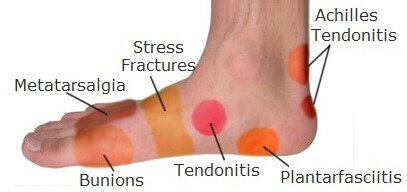 SEATTLE ANKLE PAIN DOCTOR: Because of its weight bearing function, the ankle is an area of the body frequently susceptible to pain due to injury or disease. Ankle injuries can occur during simple daily activities, during sporting activities, or with trauma such as auto accidents. Malformations, ankle diseases and disorders vary widely from mild discomfort to debilitating pain.  Any ankle pain can greatly impact your lifestyle, because the ankle is such an important load-bearing part of the body.  If you experience ankle pain associated with arthritis, sprained ankle, gout, tarsal tunnel syndrome, fracture, etc., described in our patient education library, make an appointment today.
SEATTLE WOUNDS/SKIN PROBLEMS DOCTOR: Wounds and ulcers that will not heal can lead to serious complications. Getting proper treatment from our experienced Seattle podiatrist is critical.  As a leading Seattle wound care specialist, Dr. John Hoy can properly examine, diagnose and treat a large variety of wounds. He is also board certified to treat other types of skin problems, such as infections. Some of these are described in our patient education library.  If you have a wound, ulcer or skin problem that worsens over time or seems slow to resolve, it is important to visit Dr. Hoy for a complete diagnosis, and treatment with the best possible solutions.