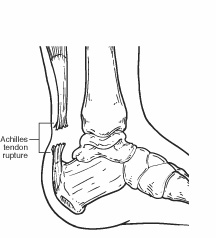 There is debate whether surgery or conservative methods are indicated for Achilles tendon ruptures.
Reasons to consider surgery include:
Most current treatment algorithms agree on surgical repair for non-obese healthy active individuals younger than 30 to 35 years of age with a rupture gap greater than two centimeters.
New mini-open and percutaneous techniques with lower learning curves can reduce the risk of nerve damage and allow visualization of the repair without the complications associated with open repair.
Most studies and literature reviews show that operative treatment of Achilles tendon ruptures has a lower incidence of re-rupture than patients undergoing non-operative treatment. This applies when the treatment includes postoperative immobilization with non-weightbearing for at least six weeks and subsequent physical therapy.
Historically, open Achilles tendon repair has demonstrated earlier return to activity or, more importantly, to work in comparison to conservative care.
Operative fixation will reduce the risk of overlengthening of the tendon, thus maintaining muscle strength.
Reasons to consider non-surgical options include:
In several recent studies, there were no statistically significant differences in the results of non-surgical versus surgical treatment at one and two years post-injury.
Non-surgical treatment involves an initial period of three to four weeks of non-weightbearing immobilization in a cast with the foot down followed by a period of partial- to full weightbearing as tolerated in a CAM boot incorporating some degree of foot down. Patients began physical therapy at approximately four to six weeks post-injury. By eight weeks, they could perform stretches, and strengthening, proprioception and balance exercises. At approximately three months, patients were allowed to walk without a boot or brace and begin light weightbearing aerobic exercises as well as single leg heel raise exercises.  Patients resumed full intensity aerobic exercise activities in most cases at four to six months after initial treatment.
One must weigh the pros and cons of surgical management along with the patient's age, pre-injury activity level, and general medical condition when deciding between surgical versus non-operative management. Obesity, tobacco use, diabetes and poor circulation as well as use of corticosteroids or other drugs that have immunosuppressive effects are all factors that increase the complication rate of surgical repair.
The incidence of complications was nearly 12 percent and included wound healing issues, deep infection, re-rupture, blood blisters, nerve injury, blood clots in the legs or lung. In addition, we have to consider the relative risks of anesthesia associated with surgical repair.
The costs associated with surgical repair are undoubtedly higher as well.
For Achilles tendon injuries and ruptures, as well as other injuries, Dr. John Hoy of the Seattle Foot and Ankle Center in Seattle, Washington can go over available options to make the best choice possible.